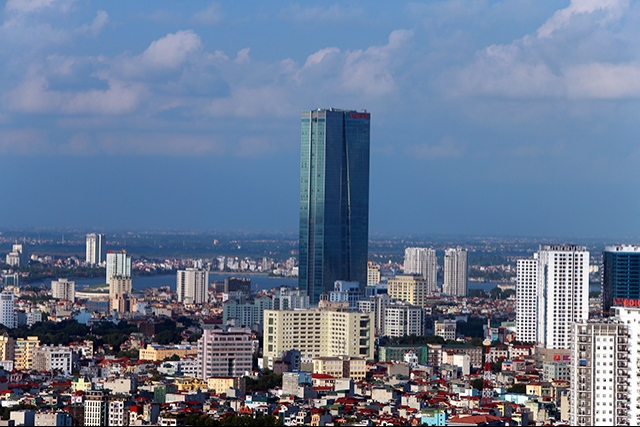 City alters land planning to meet demand for commercial services in and tourism around West Lake.
Hanoi is planning to build a commercial service area and hotels in the West Lake urban area.
The Hanoi People's Committee has issued a decision adjusting the planning for the urban area, in Thuy Khue ward, Tay Ho district. Part of the area will be changed from land use for authorities to a mixture of commercial services and hotels. The maximum density of construction is 80 per cent, at heights from five to seven floors.
The total land area affected is 967.1 sq m, of which 17.4 sq m is for road planning and 949.7 sq meters for construction.
The plan aims to create additional land to meet demand for commercial services in Tay Ho district and demand for sightseeing and tourism around West Lake.
The People's Committee assigned the Hanoi Department of Planning and Architecture and the Tay Ho District People's Committee will coordinate with the Department and the Hanoi Construction Materials Joint Stock Company to officially announce plans for the West Lake urban area and surroundings.
In the first nine months of this year Hanoi welcomed an estimated 2.9 million visitors, up 25 per cent against the same period of 2015, according to the Hanoi Department of Culture, Sports and Tourism. Of these, 2.1 million were international visitors, up 26 per cent year-on-year, and 13.5 million were Vietnamese visitors, up 6 per cent.
The Hanoi People's Committee also decided in October to restart the riverside megacity project along the Red River, called Song Hong City, after 22 years on the drawing board.
Deputy Chairman of the People's Committee Nguyen The Hung sent Dispatch No. 9378 asking departments and the Tay Ho and Ba Dinh District People's Committees to conduct research and propose a plan for the project then report back.
The details have not been finalized, Mr. Ta Nam Chien, Manager of the General Planning Department under the Hanoi Department of Planning and Architecture, confirmed with VET.
The Department of Planning and Investment had previously proposed the city's People's Committee announce the planning criteria to investors. If subsequent planning was inconsistent with the city's master plan, the Department would introduce other locations to the investor.
Song Hong City was originally proposed by a Singaporean investor in 1994, establishing the Tran Song Hong Joint Venture to implement the project, with charter capital of VND61 billion ($2.7 million). Total investment capital at that time was put at VND240 billion ($10.8 million).